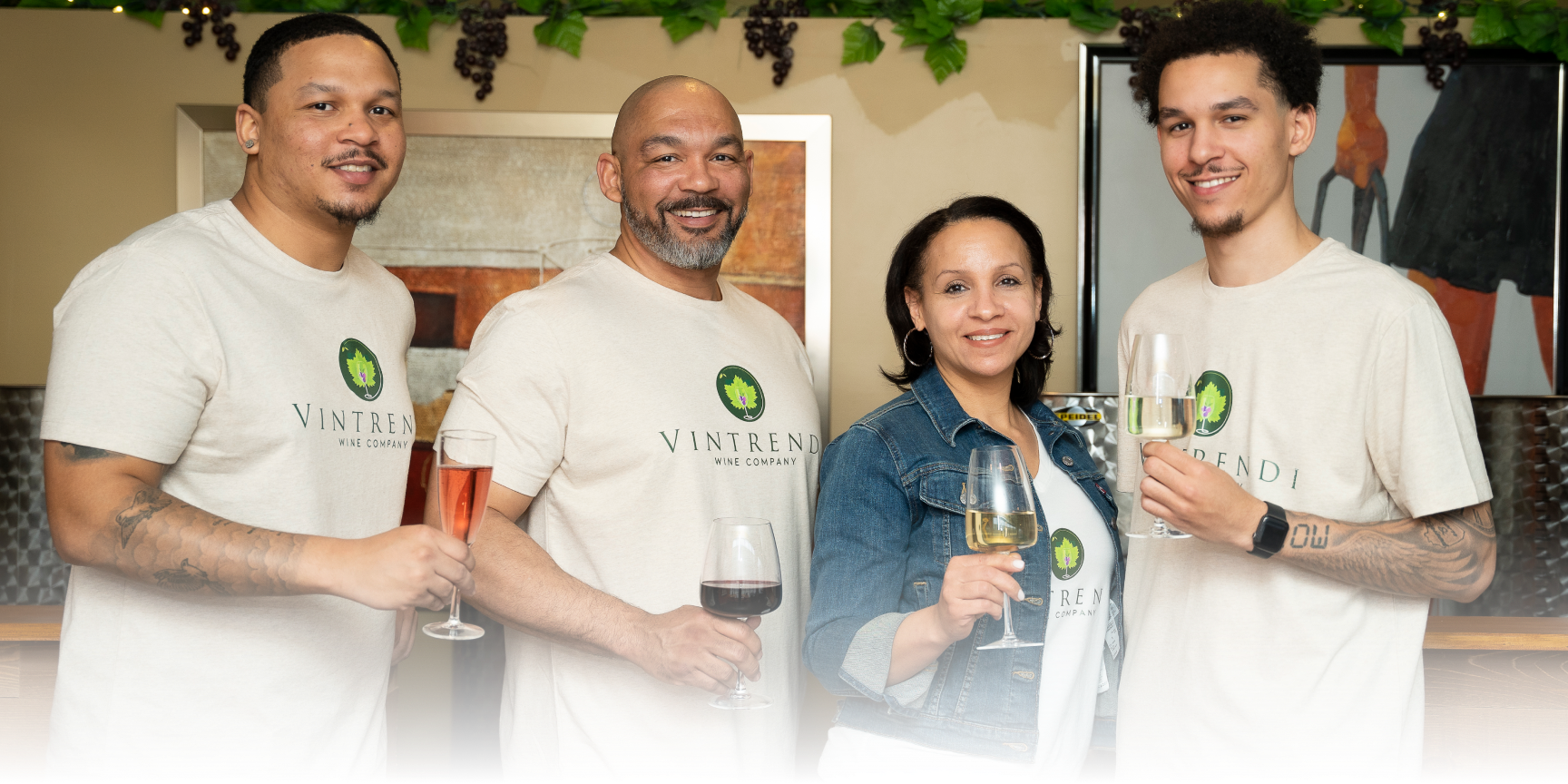 Vintrendi Wine Company evolved from its predecessor company, Vanguard Beverage. Vanguard Beverage was a boutique wine and spirits distribution company that operated in the Chicago area from 2010 to late 2013.   It was a small company started by our founder, an adult beverage industry professional that decided to fill a void in the wine business.  While working in sales for the area's major liquor distributors, our founder and winemaker realized that consumers were often confused when they began to explore the vast world of wine.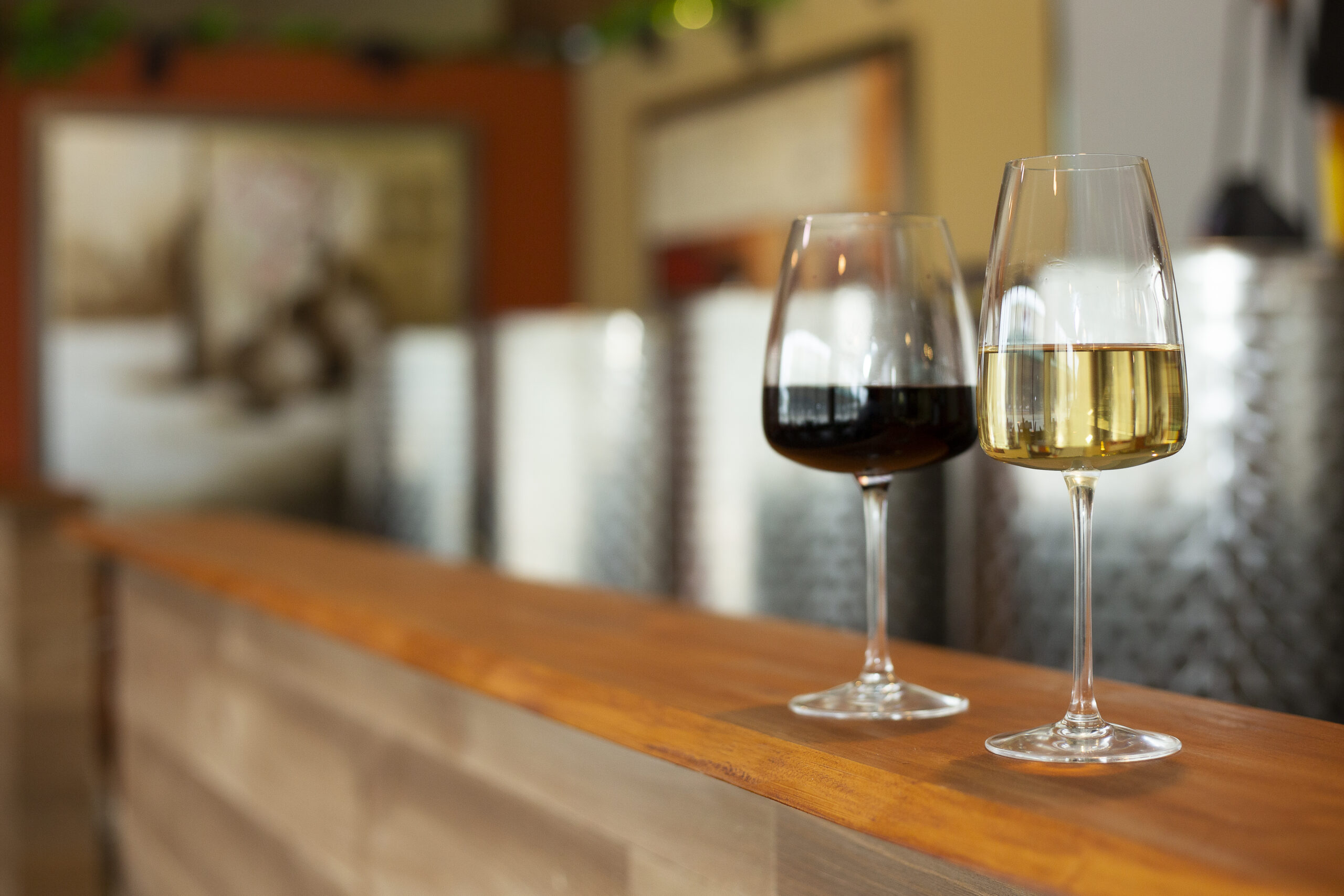 To change that situation, he developed a team of industry professionals and established Vanguard Beverage as the company with a portfolio of great tasting, easy to drink and approachable wines. His distribution company represented wine brands by various wineries but the brands didn't always reflect the type of wines they hoped to offer to consumers. He began having wines created to match his vision but ultimately, he wanted to hand craft the wines himself to reflect his taste and cultural influences. It became evident that in order to completely realize his vision of what wine could be, he would have to craft the wines himself from start to finish. He had to become the winemaker. At that point the idea for Vintrendi Wine Company was born.
Rick was not new to winemaking and adult beverage development because of his industry experience. While running the wine and spirits distribution company, he had wines manufactured to his design by other wineries. The wines were designed to give the consumers what they had been asking for but not getting from other beverage producers.  One wine in particular, Vintrendi Caramel Apple Wine, was a wine made to capture the essence of the Fall and Winter season.  He took real apple wine and added a proprietary caramel infusion and created a new style of wine.  It was certainly the first wine of its kind and it was made possible by having some creative control over its development process. But at the end of the day, he wasn't the manufacturer and he was concerned that the essence of his ideas were not fully materializing.
From that point, it was decided that all of the wines they would offer for sale would be wines that they produced from start to finish. Rick began studying traditional winemaking practices with other winemakers and eventually developed innovative techniques and wine styles that would reflect what his years of industry experience and taste buds demanded. Fast forward four years later, the Vintrendi Wine Company was established for your drinking pleasure. Since our opening date in Fall 2017, Vintrendi has expanded seven-fold and now offers a tasting room and lounge for our patrons to enjoy our wines and entertainment.
Our organization holds the honor of being the first licensed, Black-Owned and Operated Winery in the State of Illinois. Vintrendi Wine Company has also been inducted into the Illinois Made Program  by the Illinois Department of Tourism based on our unique, hand-crafted wine offerings.
We are proud to make exceptional wines and make them available at the winery and at select retail stores around the metropolitan Chicagoland area. As an added bonus, we offer wine by mail-order across the United States. We hope to be your choice of beverage for all of your celebratory needs in the future as we attempt to redefine wine, for the culture.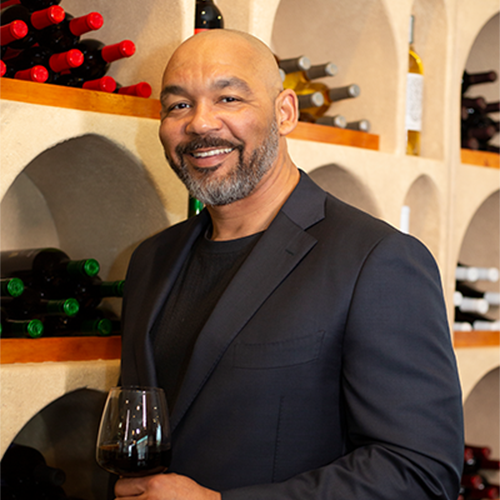 Rick Nesbitt has almost 25 years of experience in the wine and spirits industry. He has worked as a salesperson and marketer at the largest alcoholic beverage distributors in Illinois over the past two decades. His career in the liquor industry began in the fall of 1998, a couple of years after graduating from college. In his first alcoholic beverage sales role, he learned the basics of merchandising and executing wine floor programs at major chain stores. He quickly learned about the alcoholic beverage industry and excelled in his position but he wanted to learn the fine points of wine sales. Eventually, he left Union Beverage and went on to become a sales representative in the Gallo Division of Romano Brothers Beverage Company.
Read More...
The Gallo salesperson training was widely considered to be the best in the industry. Therefore, Rick eagerly accepted the opportunity to learn the finer points of the beverage sales process. During his years selling Gallo brands, he excelled consistently, exceeding quotas while developing strong relationships with chain and independent accounts in the Chicago Metropolitan area.
However, over the years, corporate consolidation took its toll on the wine and spirits industry. In the early 2000's and continues to this day there is a constant shuffling of alcoholic brands from one distributor to another. It is a commonplace disruption in business and creates an unstable environment in the distribution arena. Over the years, our founder found himself the victim of multiple mergers and product line changes. At times, product line changes were beneficial. At other times, they could be financially challenging to anyone employed in a sales capacity.
While at Stoller, a boutique distributor in the adult beverage industry, our founder gained a new outlook on the liquor industry. Stoller Wholesale was different from the other liquor "houses". Since the company was somewhat smaller than the larger corporations that dominated the Chicago market; it provided Rick more exposure to hand-made, artisanal wine and spirits brands. These were the types of products that were from foreign countries or only available at high-end liquor outlets. He became an expert at building new, remarkable wine and spirits brands. While expanding his knowledge base he recognized the opportunity to further expose consumers to brands similar to the ones he had the opportunity to experience.
Eventually, it became apparent that he was ready to conquer new heights. He realized that his past sales career would be instrumental if he started a niche wine and spirits distribution company. He used his relationships in the marketplace to attract suppliers and ultimately, to brand his own products. After many years learning supplier development processes due to many winery visits and presentations, he learned the basic methods of producing great tasting wine and wine-based beverages. It became his mission to produce easy to drink wines for everyday consumers. He didn't realize it at the time, but years of hosting wine tasting events and collecting customer data proved to be invaluable market insight. He believed he could produce the products that consumers had been wanting yet did not exist on the shelves at their local store.
He then started Vanguard Beverage, a boutique wine and spirits distribution company that operated in the Chicago area from 2009 to late 2013. It was a small company that started to fill that void in the wine business. Also, while working in sales for the area's major liquor distributors, Mr. Nesbitt realized that consumers were often confused when they began to explore the vast world of wine. He then set out on a mission to demystify the wine discovery process with approachable, easy to drink, wines and everyday language. As time went on, he realized that in order to completely achieve his goal, he would have to become the manufacturer of the company's wine portfolio. He decided to shutter the doors on the Vanguard Beverage and to devote his time and efforts to fine tuning his winemaking knowledge. Four- years later, he established the Vintrendi Wine Company, a micro-winery with a range of new age wines.
Currently, Rick serves as the CEO, winemaker and creative engine that drives the Vintrendi Wine Company experience. He and his team has established themselves as Illinois' first licensed Black-owned and operated winery His hard work and dedication to his craft has garnished accolades from patrons and the local business community. In Fall 2021, Rick was named one of the Chicago Defender's Men of Excellence and also Business Person of the Year by the Village of Park Forest as well as media exposure on NBC 5's television show, N'Digo, as well as being featured on WVON radio segments. As for the future, expect the unexpected as he strives to bring our patrons value and innovation as we take control of the narrative and direction of the adult beverage arena as we turn the page to a new chapter in the book.
Rick is a native of Chicago's far south side, the "Wild Hundreds" to be exact. He attended public school, Ralph H. Metcalfe Magnet during his elementary school years and later to Br. Rice H.S. and finished his formal education at Northern Illinois University. He is married to Carin, our CFO and they have three grown children, Donovan, Ivan and Raven. He currently resides in the South Suburban  Chicagoland area. For fun, Rick enjoys his work at Vintrendi, reading, watching television, carpentry, working out and relaxing.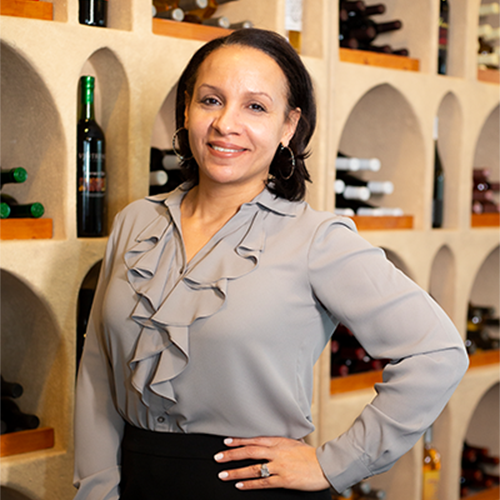 Carin has over 30 years' experience in the financial sector where she held the role of Operation Manager at a boutique financial and investment firm prior to joining Vintrendi Wine Company in a fuller capacity. Over the years she has held the roles of Trust Officer, Trader and Senior Client Relationship Liaison in the wealth management arena. We are honored to have a dedicated professional such as her on our team.
In addition to her role in the financial industry, Carin's professionalism has been invaluable in building Vintrendi Wine Company in various roles over the years. Her financial and operational insight has kept her on track in achieving goals and benchmarks for over ten years. Her expertise ranges from accounting, operational functions, and guiding the customer experience at the winery. Her ability to multi-task is unmatched.
Read More...
She is a Chicago native from the far south side and a product of the Chicago Public Schools. She attended Percy L. Julian and Depaul University. Her education, dedication and work ethic helped to put her on the fast track to success as a Black woman in the Chicago financial industry where African- Americans have low representation. Currently, Carin is married to Rick Nesbitt, our CEO and Winemaker. Together they have three great grown kids, Donovan, Ivan and Raven and she resides locally in Chicago's South Suburbs. Carin loves to work-out, knit and drink Finesse Silky White in her spare time.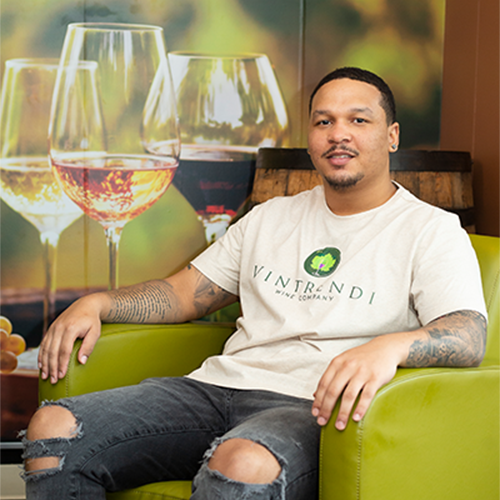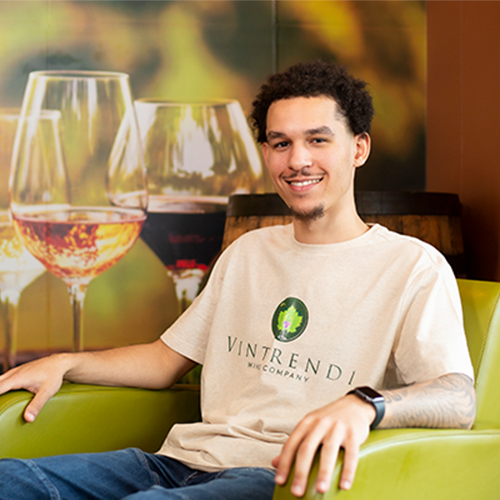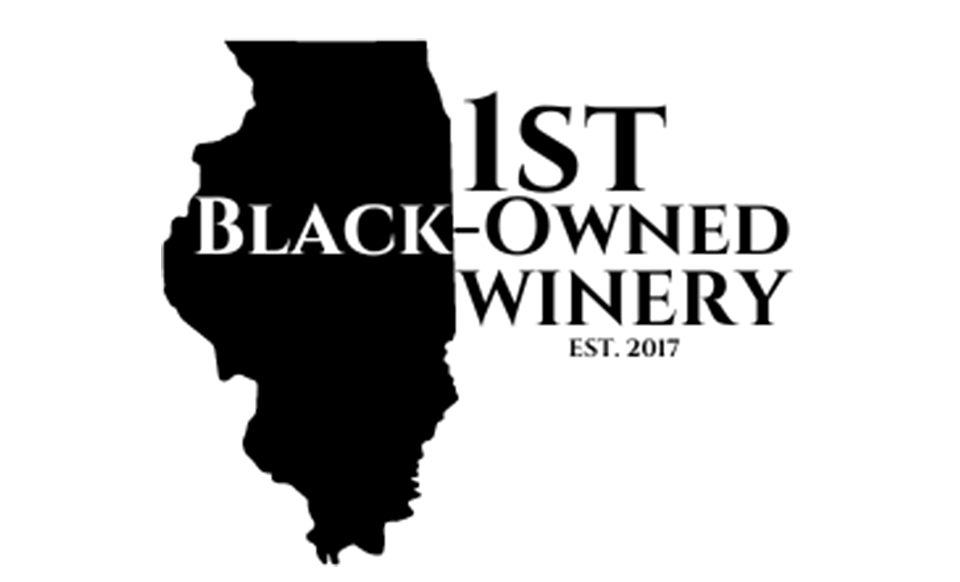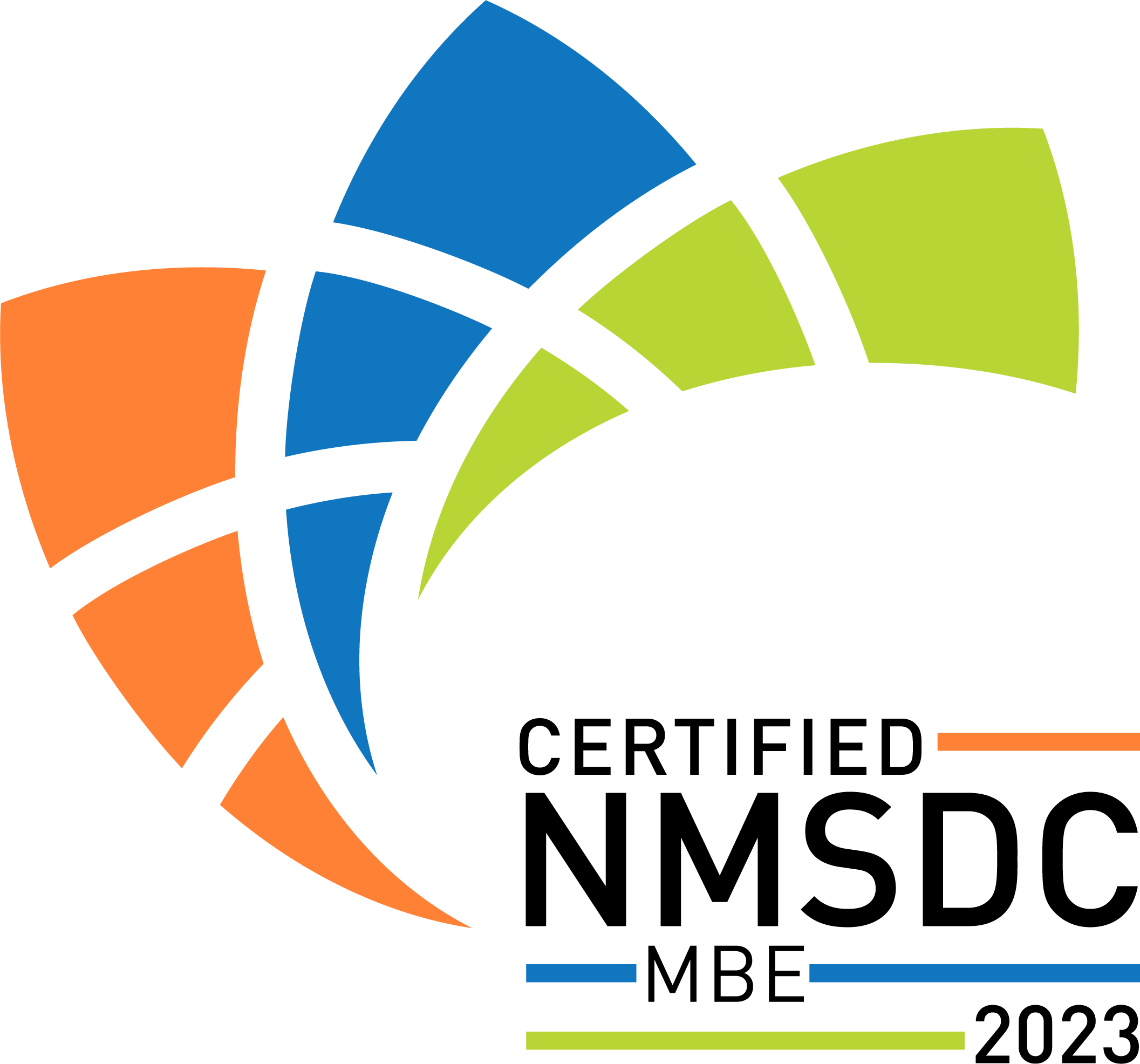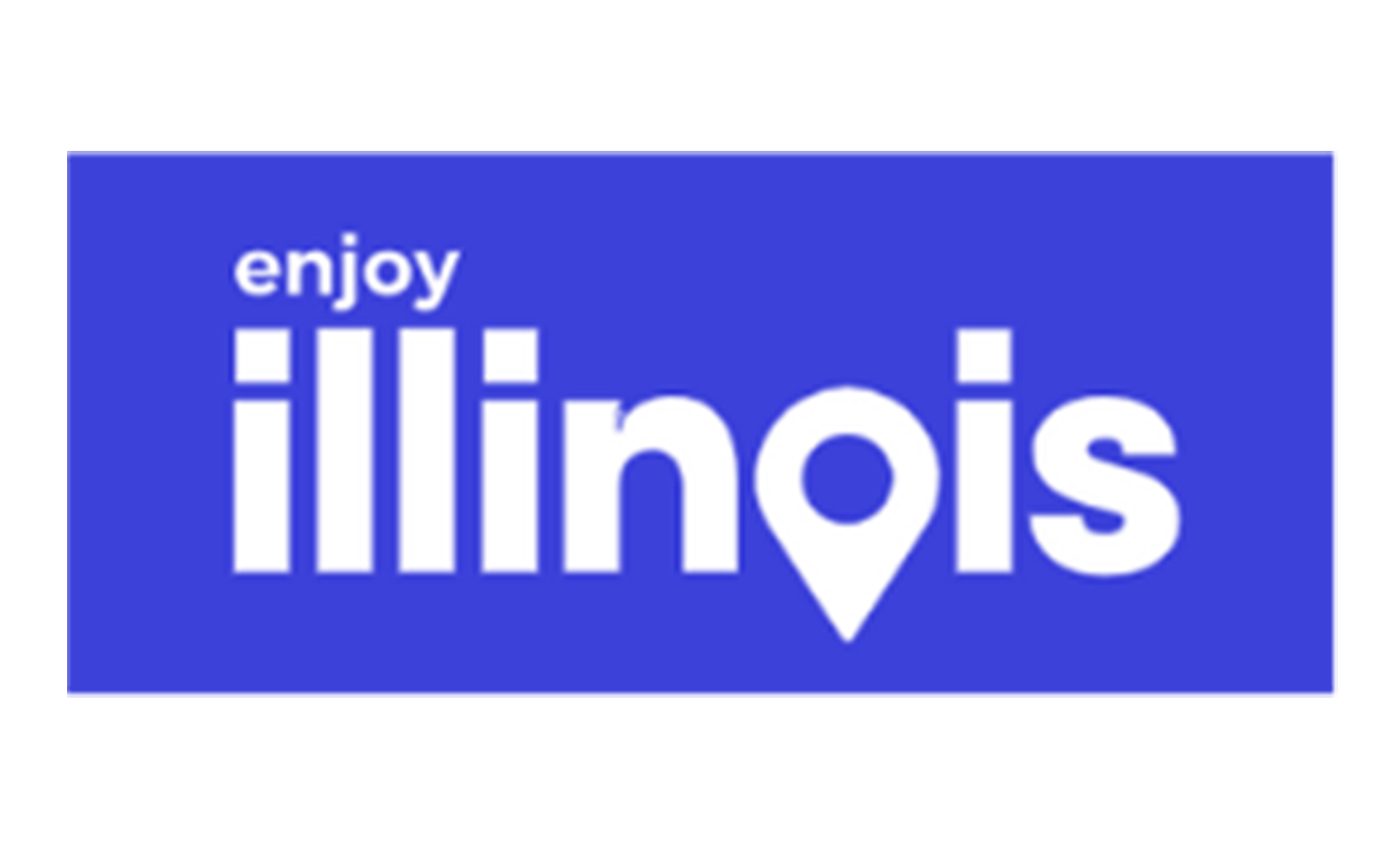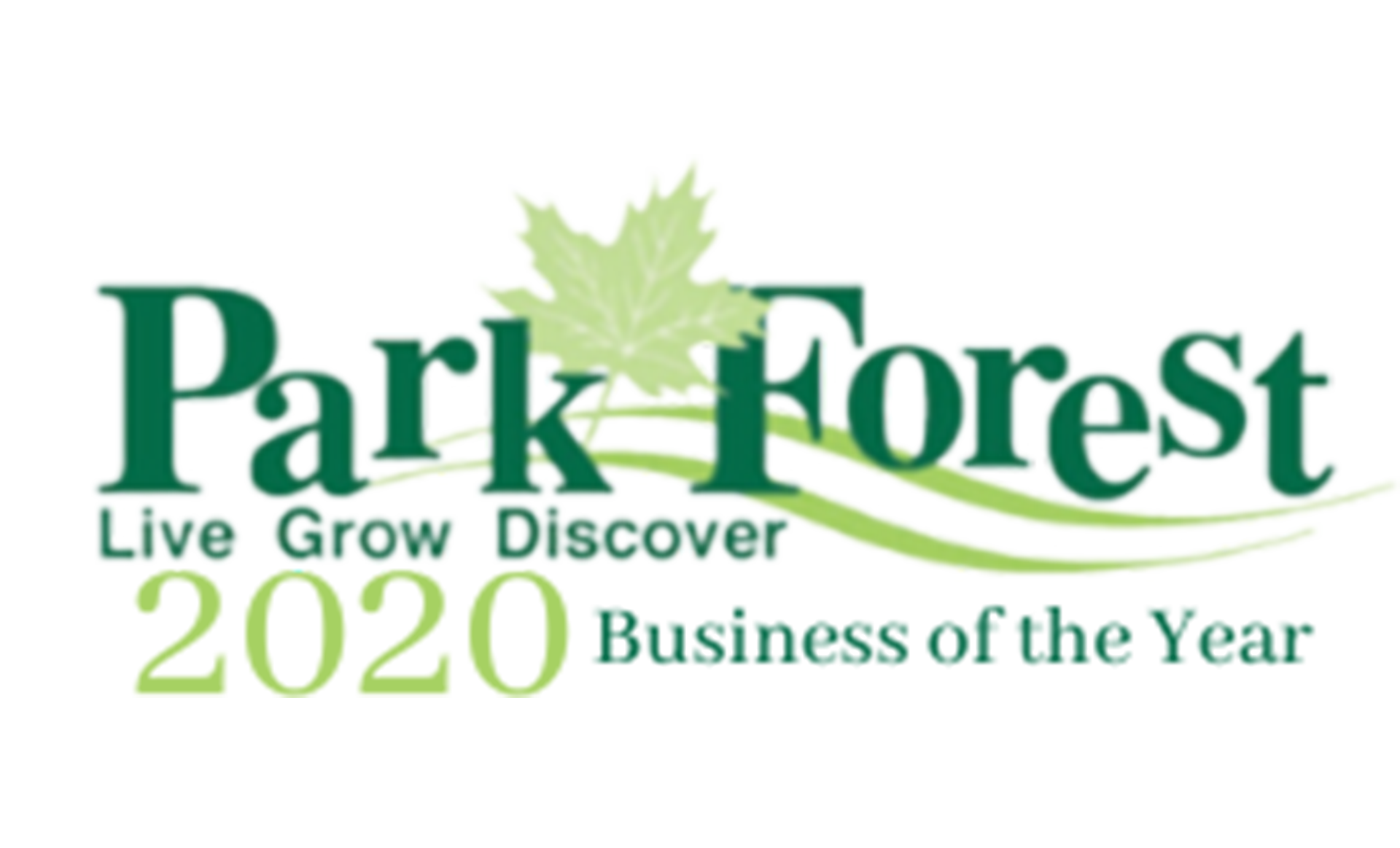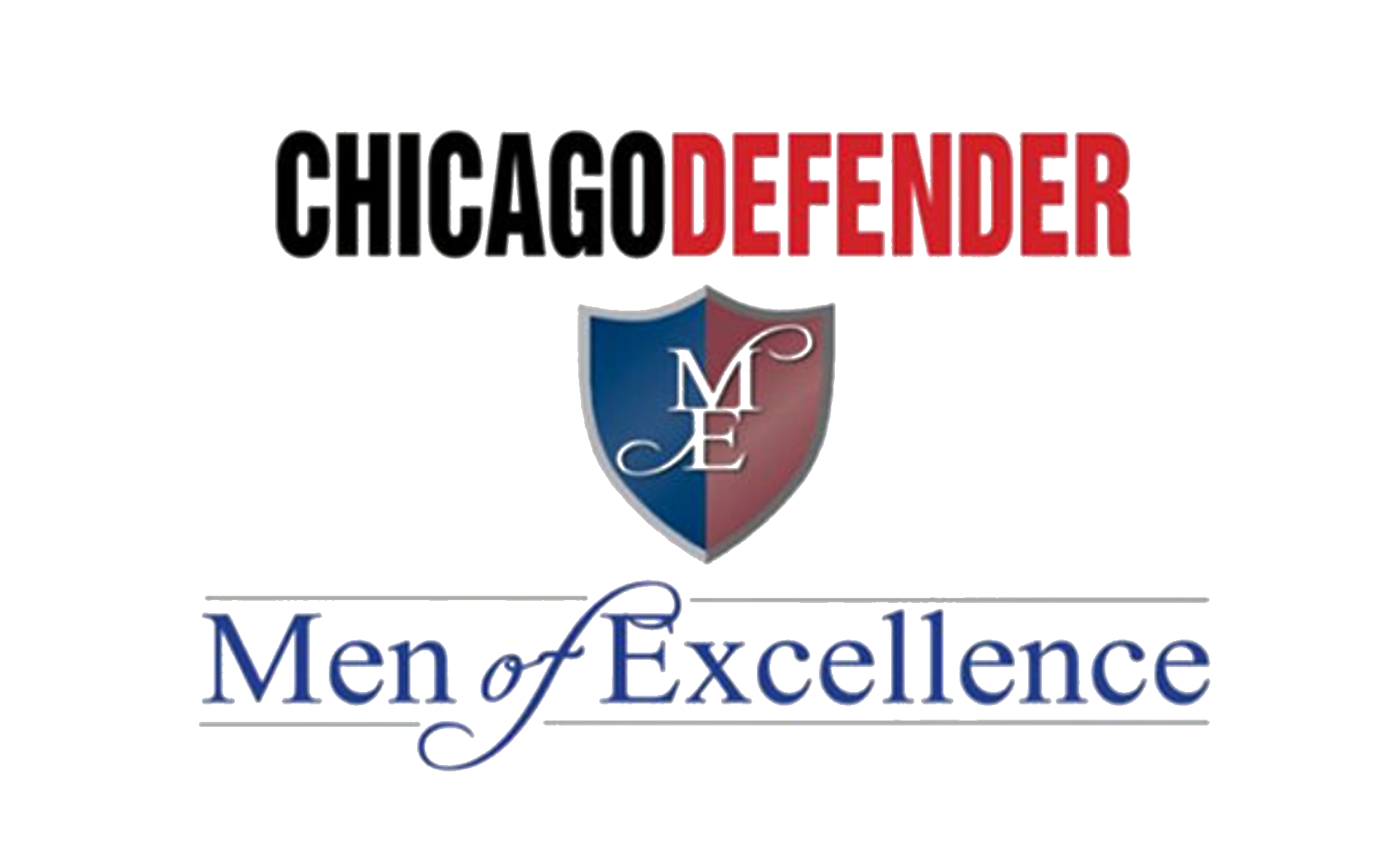 ⭐⭐⭐⭐⭐
I came here with my mother today and it was just beautiful. I even joined the wine club. We both enjoyed the music and the wine selection was just amazing. I also grabbed two bottles on my way out. The vine candy toffee temptation and the vine candy caramel apple. I can't wait to go back for another tasting.
⭐⭐⭐⭐⭐
This place is a secret gem. Their wines thus far are top tier. We came for the summer time chi wine which was soooo delicious.  I sampled the banana creme wine which was also delicious. It was a good vibe and I'll be back for a couple of flights. Great customer service and chill atmosphere.
⭐⭐⭐⭐⭐
The wine was really good, the customer service was on point. Honestly I am super happy to have a Black owned winery in our community. I will be spreading the word, I would much rather support this establishment than Cooper's Hawks. This was the best rose I ever had.
⭐⭐⭐⭐⭐
Wonderful experience, staff was very helpful great recommendations, very intimate spot, look forward to going back and trying more wine
We are proud to be a black-owned business, and we strive to provide opportunities for other members of our community. Our commitment to diversity and inclusion extends to every aspect of our company, from our team members to our suppliers and partners. Watch now to hear more from our founder, Rick!